SEVENCORE is a brand new riding action MMORPG developed by NORIA, originally published by gPotato, and now hosted by IgnitedGames.  Sevencore is a game where technology meets fantasy in a unique post-apocalyptic universe, featuring a rich companion system with pets that you can ride and fight with, compelling storyline, PvE and PvP combat, enhanced mounted air combat, dungeons, bosses, raids, crafting, quests and much more.
The distinctive fusion-fantasy art style sets the game apart visually from every other online game. And best of all, SEVENCORE is and will remain completely free to play.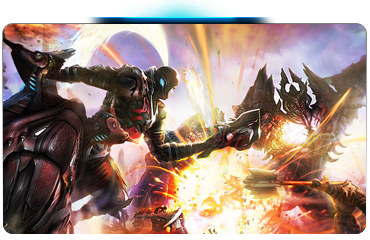 Story line
Edit
In the beginning, players are free to choose any of three playable races: the Sion, the Nuuk and the Brutus. Each race and faction draws on their cultural diversity to bring unique spells, armours and weapons to players as they charge into the accelerating conflict that threatens the game world.
SEVENCORE inmerses MMORPG gamers in a deep and engaging futuristic, sci fi storyline that will evolve via free expansions. The narrative will be distilled through quests and NPCs, and each race and faction will experience the story differently based on their own unique in-game history and culture. As they progress through the game, players will be able to piece together the events and motives behind the game's world history that shapes their daily gameplay, until they understand the bigger picture and ultimately become a force to shape a new game world.